Full-Service Electrical Testing Company in Elkhart IN
For over 30 years, Power Plus Engineering has worked with high voltage customers including hospitals, manufacturing facilities and automotive factories throughout the Midwest. Power Plus Engineering is a full-service testing and maintenance firm that specializes in AC and DC electrical equipment and systems. We are a "Full Member In Good Standing" of the International Electrical Testing Association (NETA). As a member of NETA, you can feel confident when you hire us you are working with a company that is a part of the International Electrical Testing Association.
Emergency Service for All Your Elkhart IN Area Power Issues

Our NETA certified emergency technicians are available around the clock, every day of the year. If you are experiencing a critical power problem, call us first. We'll get you up and running quickly and safely, with minimal downtime.
Elkhart IN's Source for NETA-Compliant AC/DC Power Quality Testing, Maintenance & Electrical Engineering Consulting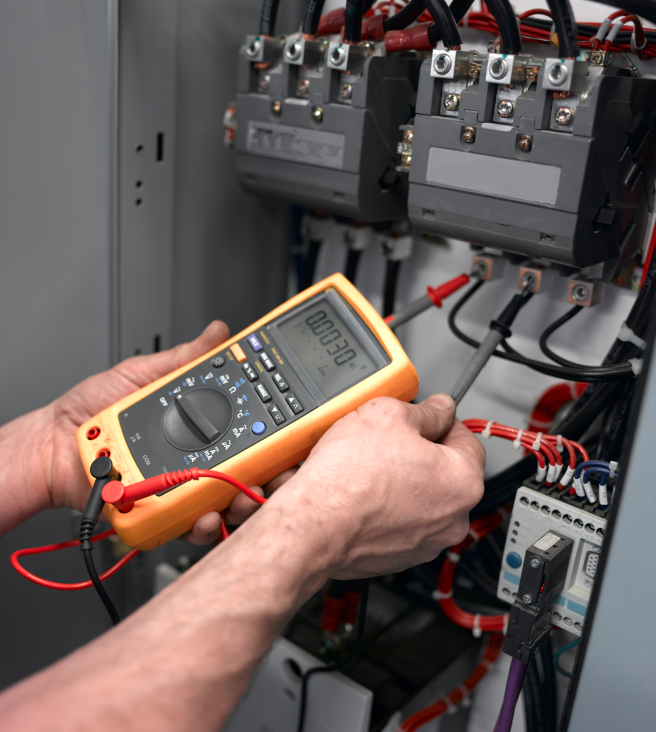 The POWER PLUS AC Systems group specializes in the testing and maintenance of circuit breakers, transformers, switchgear, protective relays, meters and all other components of electrical distribution systems up to 345,000 volts. We provide Infrared Thermography Inspections, Ground Mat Testing, Ground Fault Calibration, Circuit Breaker Retrofit and Rebuilding, and Utility Line Monitoring.
DC Power Testing By Factoring Trained Technicians
Work with a company that specializes in the repair and maintenance of Uninterruptible Power Supply (UPS) systems, testing and maintenance of stationary battery systems, inverters, rectifiers, Automatic Transfer Switches (ATS), and DC Power Bays for telecommunication applications. We can provide preventative maintenance programs on virtually all UPS and battery systems including on-site IEEE 450 capacity testing of batteries. We have established professional relationships with every major battery manufacturer and will provide very competitive pricing on new or replacement battery systems.
POWER PLUS Engineering's Electrical Distribution System Services Program
As a result of numerous inquiries, NETA has developed guidelines for the frequency of periodic inspection, testing, and preventative maintenance of electrical equipment and apparatus, and has developed standards to perform this maintenance.
POWER PLUS Engineering's electrical distribution system services program, is designed to provide optimal operating conditions of your infra-structure to improve system reliability and safety, and to reduce losses associated with production downtime. In addition, our Preventative Maintenance Inspection program helps to:
Identify problems before equipment fails
Free up capitol and personnel so you can focus on your core competency
Reduce costly insurance premiums
Power Studies & On-Site Training
Power Quality Problems are any deviation in the electrical power that results in the failure or malfunction of the customer's equipment. POWER PLUS Engineering can provide Short Circuit Studies, Coordination Studies, Arc Flash Studies, Quality of Power Studies, Power and Grounding Studies, Power Factor Studies, Electrical and Magnetic Field Studies, and Energy Conservation and Utility Audit services.
Finally, the POWER PLUS Training group has combined its technical knowledge and field expertise with sound instructional practices to offer on-site training nationwide designed to go beyond the classroom and onto the job.
---
For expert diagnostics, identification and resolutions for your AC and DC electrical equipment and systems, call the experts at POWER PLUS Engineering!