About Us
POWER PLUS Engineering is a RESA Power Company. RESA is an InterNational Electrical Testing Association (NETA) accredited company.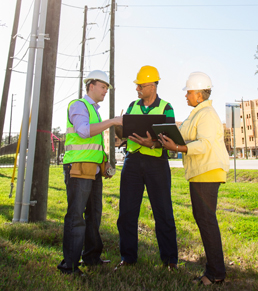 POWER PLUS Engineering, Inc. was founded in 1986 and is a full service testing and maintenance firm that specializes in AC and DC electrical equipment and systems. RESA is a "Full Member In Good Standing" of the International Electrical Testing Association (NETA). POWER PLUS is signatory to IBEW Local 58 and long-time member of the Construction Association of Michigan (CAM). POWER PLUS became part of the RESA Power family in 2017.
A large number of Michigan, Ohio and Indiana customers rely on our high voltage experience and expertise to maintain and repair their electrical distribution systems and emergency power equipment.
AC Solutions
The POWER PLUS AC Systems group specializes in the testing and maintenance of circuit breakers, transformers, switchgear, protective relays, meters and all other components of electrical distribution systems up to 345,000 volts. We provide Infrared Thermography Inspections, Ground Mat Testing, Ground Fault Calibration, Circuit Breaker Retrofit and Rebuilding, and Utility Line Monitoring.
---
DC Solutions
POWER PLUS Engineering DC Systems group specializes in repair and maintenance of Uninterruptible Power Supply (UPS) systems, testing and maintenance of stationary battery systems, inverters, rectifiers and DC Power Bays for telecom power supply. We can provide preventative maintenance programs on virtually all UPS and battery systems, including on-site dynamic load testing of batteries. We have established professional relationships with every major manufacturer of battery systems, and will provide very competitive pricing on new or replacement battery systems.
---
Power Studies
Additionally, POWER PLUS Engineering can provide Short Circuit Studies, Coordination Studies, Arc Flash Studies, Quality of Power Studies, Power and Grounding Studies, Power Factor Studies, Electrical and Magnetic Field Studies, and Energy Conservation and Utility Audit services.
---
On-site Training
Finally, the POWER PLUS Training group has combined its technical knowledge and field expertise with sound instructional practices to offer on-site training nationwide designed to go beyond the classroom and onto the job.